Motivate and Entertain your Audience through a Story of Resilience
Watch Eva shine and offer so much as a natural born storyteller.
Going from performing internationally to face her death before turning and limping away; the tale Eva offers is based in the acquisition of severe brain injury. In creating a place for herself whilst rebuilding mind and body, a curious investigation of society was enabled. The thought of 'getting better' consumed her every waking moment, encouraging exploration of treatment and studies over many years. These findings complemented the conventional medical options taken.
Eva's recovery has been holistic in nature.
Alongside physical, mental and personal rehabilitation, Eva Sifis built a career in the disability arts sector taking any opportunity to grow. And the time came to move from her home in Adelaide, to return to live close to the site of the injury in Melbourne.
Here Eva's impact can be greater.
Chemotherapy, received for stage 4 Hodgkins Lymphoma in 09, left her cognitive processing affected. Recovering it was a gradual process and stretched over 5 years. Throughout it all though she continued to develop her arts career and business. Now a registered trainer, some of Eva's work sees development of specially tailored education. This occurs alongside her initial foray of which she is most proud…
By Accident™ is Australia's first and only peer initiated, informed, developed and led coaching for others whose lives have been both devastated and changed forever by Acquired Brain Injury.
Eva is at home on stage. With ease the audience is strapped in to be taken through a rollercoaster of a story showing how determination, resilience and tenacity can transform.
Contact Eva today and let's talk!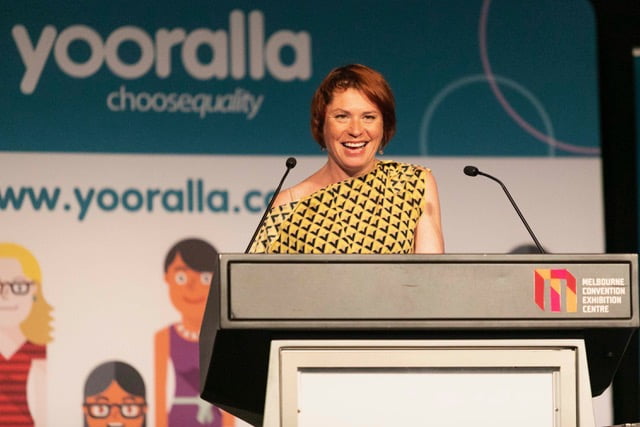 Public Speaking Audience
My message is suitable for all audiences ready to be motivated and share a few laughs along the way.
Corporate and business engagements
Industry conferences
Medicine and allied health
Health and wellbeing industry
Not for profits
Format
Choose from two prepared speeches ready to present to your audience:
20 minute speech for a shorter message aimed to encourage and motivate
40 minute keynote presentation for a detailed exploration of my story and life transformation
The duration and content of my speeches can also be customised to meet your requirements.

Photographs marking memorable periods from my rollercoaster ride of a life can also be spoken to for a pictorial experience.
The material to be covered verified through prior discussions.
Bookings
Fill out the form and Eva will be in touch shortly about your public speaking event.