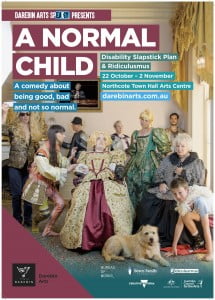 A Normal Child began life when Yarra City Council put a call out for disabled performers to work with director David Woods on a spoof playing with the reality of a Disability Action Plan. Required by all businesses, a plan for the inclusion of those disabled by our society includes acknowledgment of access issues and necessary adjustments being made. The fact remains that a Disability Action Plan very often turns into a Disability INaction Plan as the plan can end up yellowing in a drawer somewhere.
Running for 3 years under the name the 'Disability Slapstick Plan' is a play on the abbreviation DSP – also the abbreviation for Disability Support Pension, upon which many of us survive. Australia is an inherently discriminatory society with a rate of employment of disabled people numbering less than half of those attributed to non-disabled people. Even then our employment is on a casual or part-time basis and not secure.
The DSP gained funding with the constant work and attention of our collaborators, David Woods (Ridiculusmus Theatre UK) and Anton Rivette (dramaturg). These enabled repeated development opportunities over the years, culminating in an appearance at the 2018 National Play Festival in Sydney. Our cast waned in number from the original 8 in 2016 to 4 in 2019. Honed by passionate discussions and daring improvisations, our script finally gained its end draft in time for our season as part of the Darebin Festival in Northcote Town Hall.
Our statement on the lack of authentic casting (where disabled roles on stage and screen are played by disabled people) and the invisibility of a disabled life played 8 times over the fortnight. Our audiences were thoroughly entertained whilst being asked through the play to look within at assumptions carried life long.
Indeed, art is a doorway to realms unseen, a window framing a view of everyday society from a new tangent of perception.